Listen to the full audio story
Show Embed Code
|
Download the MP3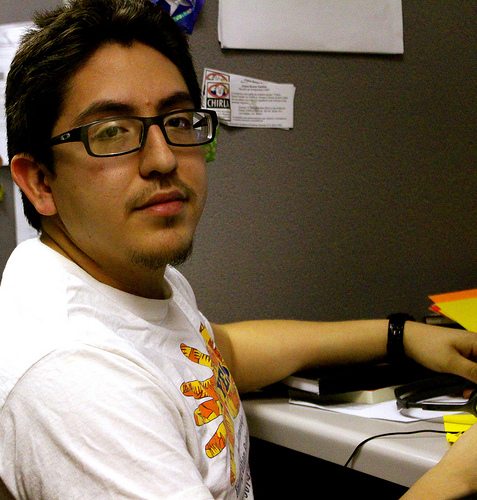 Comprehensive immigration reform could drastically change Kevin Valero's life.
Valero works for the Coalition for Humane Immigrant Rights of Los Angeles, one of the groups joining a national hunger strike, known as "Fast for Families: A Call for Immigration Reform and Citizenship," to pressure Congress to pass comprehensive immigration reform.
The 20-year-old has not seen his father in two years. He and his parents are undocumented immigrants, and when his father's health declined the family's immigrant status prevented them from qualifying for health care, sending Valero's father back to Mexico for treatment.
Valero moved to Los Angeles when he was five years old. His mother is a domestic worker and his father picked up random accounting jobs thanks to his training in Mexico.
Despite working hard all throughout public school and attending the University of Southern California, Valero's education goals were cut short.
"I had to drop out after my first year due to a lack of paperwork, which prevented me from getting federal financial aid," said Valero. "I had to look at public universities and community colleges."
Valero is part of a statewide network of undocumented students, who, with scores of other activists across the country, are fasting in solidarity with the original fasters in Washington, D.C., who have not eaten in 23 days.
Across country, more than 3,000 activists have signed up to fast for various periods of time, according to national organizers for Fast for Families.
Republican lawmakers agree that the system is broken and the nation is in desperate need of immigration reform, but it should not come as one comprehensive bill. Rep. Kevin McCarthy (R-Calif.) says House Republicans' are taking a piecemeal approach to immigration, but have not set a time frame.
Activists say the fasts will continue until immigration reform is a reality.